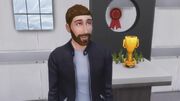 Michael Wolf is an English broadcaster who is employed by Jmc TV. He presents the first round overview shows of each jmc World Cup. Although he is employed by Jmc TV, he is not based in Argentina, where the headquarters are located, he resides in his hometown of Stoke-upon-Trent, Staffordshire, England.
Early Life
Edit
Wolf was born in Stoke-upon-Trent, Staffordshire, England, to parents from London. He became interested in broadcasting since his father worked as a cameraman in BBC studios.
Jmc TV Work
Edit
Wolf was approached by Jmc TV officials to present documentaries and TV shows for the channel in the early days of his broadcasting career. In 2012 during that year's World Cup in Japan, he conceived the idea of creating a jmc World Cup First Round Overview, which he stated could help him explain to viewers how the first round of each tournament went. His first show was a success.
Other Work
Edit
Wolf does occasional pieces for BBC and ITV in England. He presents a morning radio show called "Howlin Wolf in the Morning".
Personal life
Edit
Wolf resides in Stoke-upon-Trent with his wife Diana and their children Stephen and Lucy. After Lucy was diagnosed with moderate autism, Wolf became an ambassador for the British Autism Society stating "All we want to do is give our kids a chance in life".