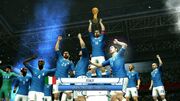 The Jmc World Cup Japan 2012 Final was a football match that took place on April 7 2013 to determine the winner of that tournament. The final was contested by Italy and Portugal.
After a 2-1 score at the final whistle, the winner was revealed to be Italy. This was their second win at a jmc tournament (after Mexico in 2007). As a result of their win, Italy went on to defend the title at the current tournament in Serbia.
Route to the final
Edit
Italy was drawn into Group G at the official draw. Portugal were drawn to Group D. Portugal won two of their group games and drew one game. They then went onto win against Sweden in their knockout match and against Holland in the quarter final match. They were placed against a surprise team of the tournament, Nigeria, in the second semi final which they won and got to the final.
Italy won all of their group games and went into the Knockout Stages as a clear favorite to win the cup. They played against Serbia in their knockout fixture and won a pass into the quarter finals. They played in the quarter finals against Croatia and won that fixture to earn a spot in the semi's against Spain.
In their semi final clash with Spain, people predicted that Spain would be the team to get to the final. However, Balotelli scored a point for Italy, which was the only score in the game, and that secured a final appearance in Japan for Italy.
Italy and Portugal met for the final. In this one Balotelli scored again for Italy with two points to give them the title in the end.
Match Officials
Edit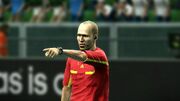 John Howard, of England, was the man who refereed the final. He had refereed three games in the tournament previously. He was assisted by American Mason Harris and Nigerian Igbo Akinjewe.