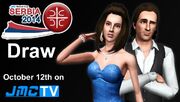 Gabriel Dumas is an Argentinian broadcaster. He is known for presenting quiz shows and documentaries in Argentina. He hosted the draw for the Jmc World Cup Serbia 2014 with Arya Davis.
Early Life
Edit
Born in Buenos Aires, Argentina, Dumas was the oldest of three siblings. He was approached to do broadcasting following a high school work experience in a television studio when he was 17.
Dumas has presented three quiz shows: "Mastermind Argentina", the Argentinian edition of "Who Wants To Be a Millionaire" and "University Challenge". He became interested in Documentary filming when he was on a tour in the Amazon Rainforest in Brazil with his family, and then produced wildlife and nature documentaries surrounding the South American rainforests.
In 2014, Dumas was approached by Jmc TV to present the official draw of the jmc World Cup Serbia 2014. He accepted the offer and flew to Serbia to begin rehearsals.
Personal Life
Edit
Dumas lives in Buenos Aires, he is married and has two children. He is an avid nature lover and occasionally broadcasts nature shows on radio and writes nature pieces for local newspapers.
Since he was six years old, Dumas has played the bagpipes and is a piper of the South American Piping Association Pipe Band.